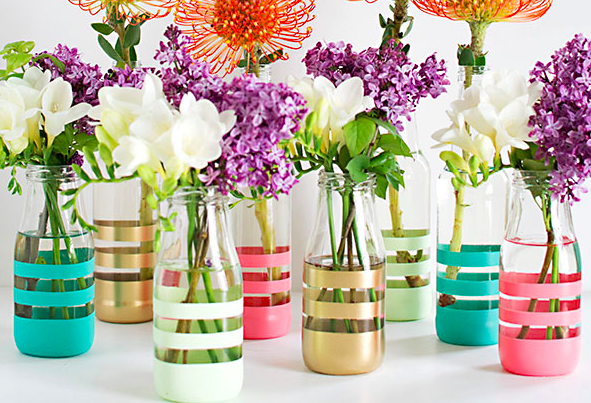 I don't know if it's because it's Christmas time or it's happened quite recently (or I've been living under a rock) but haven't you noticed that everything seems to be a bit…DIY? Ok let me explain…does shabby chic come to mind? Whether it's making a piece of furniture, decorating your own office wall with thousands of pictures or even making your own advent calendar for your sister – everything seems to be homemade. And it doesn't stop there, there seems to be pages upon pages of how-to's and life hacks.
From how to make Ferrero Rocher hazelnut chocolate fudge cake, yes please, and Christmas ornaments to how to make your small bathroom look bigger. There are millions of creative things you can do in and around your home. You won't even have to search around for it either as it's all there in one place. Pinterest. The most wonderful platform that has ever graced a place on the front page of my phone. But why is it one of my most favourite apps?
For me, I've always been creative, making cards, drawing and painting, designing and making things so when it comes to Pinterest I'm completely lost within another world. A different life of beautiful modern homes with cute office space, a herb garden in my kitchen, perfectly created storage. So why the instant pull to want to make our own things?
Personally, I like to be proud of what I own and of what I've made. Every time I 'pin' something it's like I can automatically picture what it's going to be like. I see amazing ideas for handmade presents or games or picture frames  and it just makes me want to be more thoughtful and creative.
I think I've become obsessed by DIY but as soon as I see the receipts of the materials and what it's ended up looking like, I just want to cry. I've spent three times as much as I would if I just went out and bought one and it looks like one of my four-year-old homemade creations from school. Looks like I won't be the next Kirsty Allsopp.
But nevertheless I still opt to make things and only ever dream that one day I will be the maker of my very own under stairs bookshelf turnt secret cave. Whether it's something little and easy or maybe you want to push yourself and I really think Christmas time is perfect to be creative but I think everyone should have a go. Get lost within the 'pins' and boards of Pinterest create something amazing. And if it's crap just bin it and forget you even started.
Photo Via Pinterest (of course)